Facing the unexpected outbreak of COVID-19, FAW Group immediately improves response plans and spares no effort in prevention and control in this regard. At the same time, FAW actively shoulders its responsibility as a state-owned enterprise, to work against the clock to support the epidemic control in Hubei province, the epicenter of the outbreak.
On Jan 27, FAW Group announced, along with FAW-Volkswagen and FAW Toyota, to make donation of 17 million yuan to support the COVID-19 prevention and control work in central China's Hubei province, where the outbreak is most severe. On Feb 1, FAW Group and FAW-Volkswagen raised their donations to 40 million yuan respectively, and established a special fund to fighting the epidemic.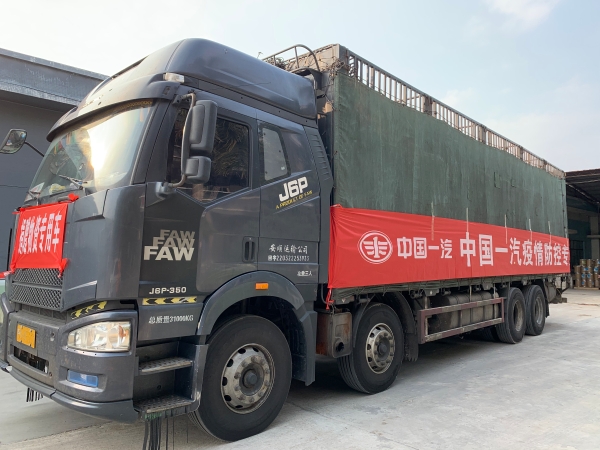 As of Feb 28, the donation of 81 million yuan has been disbursed to China Foundation for Poverty Alleviation (CFPA) through the State-owned Assets Supervision and Administration Commission (SASAC) of the State Council, the regulator of China's state asset, to comprehensively support the prevention and control of the epidemic.
It is a race against time. FAW immediately selected 21 hardest-hit regions and five pairing assisted state poverty counties as priorities, offering medical items and supplies, emergency vehicles as well as financial support to these regions in accordance with local conditions.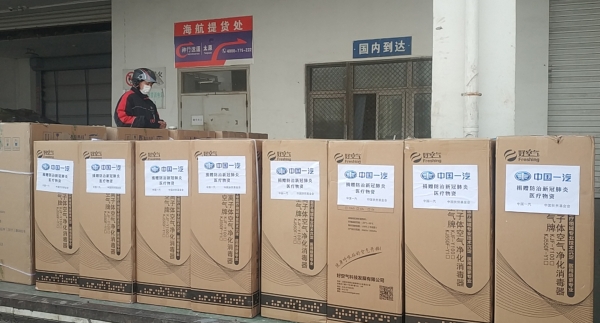 40 disinfection machines are sent to Zhenlai, an impoverished county of Jilin province
As soon as the first batch donation of 17 million yuan has been delivered on Jan 28, FAW worked in close liaison with CFPA, and purchased the badly needed medical supplies to the affected regions, including 60 tonnes of disinfectant, 250,000 pairs of medical gloves, 10,000 cartons of disinfectant effervescent tablet, 150 ventilators, 500 oximeters, 100 patient monitors, 70 disinfection machines, 20,000 face masks, 150 pieces of protective clothing, and 4 negative pressure ambulances. As of Feb 28, medical materials worth of 3.75 million yuan have been distributed to 4 provinces, 10 cities and counties, and 15 hospitals.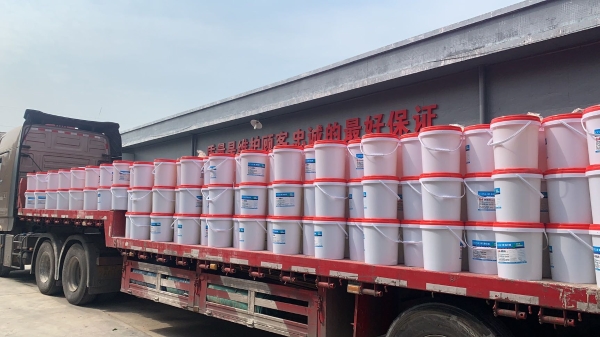 2,000 barrels of disinfectants are contributed to Helong city, Jilin province
Furthermore, FAW has launched a support fund program to lessen financial pressure at 16 designated hospitals in 21 hardest-hit cities and prefectures, to help these hospitals to build a long-term mechanism for epidemic prevention and control.
The fund will be mainly used to purchase medical items and supplies, comfort medical workers, personnel training, and financially support the residents living in difficulties due to the epidemic.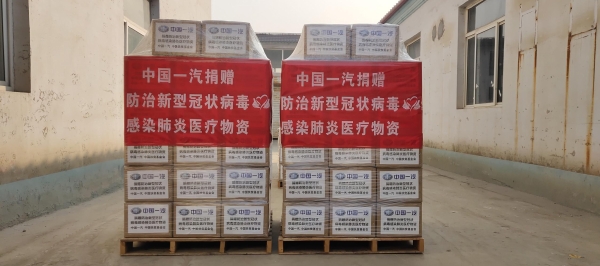 4,000 cartons of disinfectant effervescent tablet were delivered to Traditional Chinese Medicine Hospital of Hongan County, Huanggang City, Hubei Province
FAW Group committed to promptly implement the donation of cash, protective materials and daily necessities, and emergency vehicles, to shoulder its responsibility of a major state-owned enterprise in fighting the epidemic.
FAW is a leading global manufacturer of quality passenger cars, trucks, and buses. Established in 1953, the company is China's oldest and largest automotive group. Annual sales exceed three million units.